How to Plan Your Meet the Teacher Night or Open House
If you're looking for help planning your Meet the Teacher Night or Open House, you're in the right place! In this post, I share how I planned my entire night and provide you with some FREE templates to get you started!
Whether it was my first year or my fourth year teaching, Meet the Teacher Night was always such a big source of stress. Sure, I'm excited to meet my new students, but making a good impression for parents always made me a bit nervous. However, over the years, I developed so many great materials and activities that the night actually became a lot of fun. If you have a Meet the Teacher Night or Open House coming up, don't fret – you got this. The tips I share in this blog will help you impress parents and breeze through the night. If you are looking for materials for your Meet the Teacher night, I've got those for you, too. Everything discussed below can be found in my editable Meet the Teacher resource found HERE.
Before I get into the nitty gritty, my first tip for Meet the Teacher Open House night is to let your personality shine through! Be you so that students and their families can truly get to know you and see that you are a person who cares about their child. In order to do this, you need time to dedicate to each family so that you can have meaningful conversations. That brings me to my second tip. Don't assume that you'll have enough time to spend with families. You have to make time, because Meet the Teacher Open House night will pull you in a million directions if you let it. The information below will help you accomplish that goal.
Set up Station Signs
So how do you make time for yourself? Simple – organize your classroom so that students and their families automatically know what to do without any direction or assistance from you. I do this with station signs that direct "traffic" and let everyone know exactly what to do, how to do it, and when to do it.
Another tip is to set out fresh flowers at your sign-in sheet. I got these hydrangeas at Trader Joe's for $4.99. It's a simple touch that sets the tone for the evening.
Station signs should clearly direct students and parents around your room so they don't need assistance from you. Again, this will free you up to give enough attention to each family. These station signs you see above (along with all of the other printables) can be found in my Meet the Teacher resource. Also, they are editable so that you can change the text to fit your classroom. In addition, I used standing alligator clips found below to stand them up on tables.
Have a Meet the Teacher Letter
Once you have your signs organized and place throughout the room, it's important that you create a Meet the Teacher letter prior to the evening. This is something you can easily create using my Meet the Teacher letter editable template. It's a great way to introduce yourself and share some of your personal information. It's also an icebreaker because it shares a lot of details that make great conversation starters. Parents love to talk about the college you went to, your family and children, etc.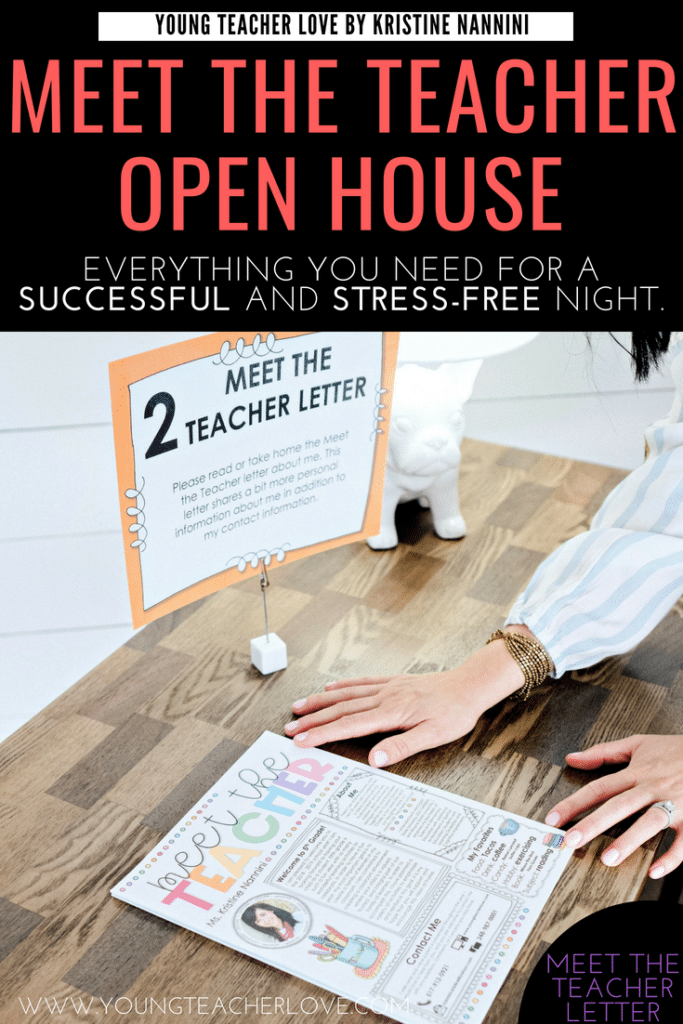 Below is a close-up of my editable Meet the Teacher letter template. You can edit the text to share personal information with your students and families! Click HERE to check it out.
Create a Parent Letter & Questionnaire
Another thing you can do to have a successful night is get parents involved. I provide parents with a detailed parent letter outlining my classroom policies and expectations. In addition, I always like to include some helpful tips for parents that they can use to get their child prepared for school each day.
In order to learn more about my students, I also like to set out a parent questionnaire. There is no one that knows your students more than their parents. This questionnaire will provide you with a lot of great information and show parents that you care and appreciate their input.
Make Transportation & Volunteer Forms
Meet the Teacher Open House night is an opportunity to gather other important information to help your year run smoothly. Two very important forms that will help you manage your class effectively include a transportation form and a volunteer form. You don't want to be caught with a crying student who doesn't know how to get home, and you don't want to be scrambling for volunteers when you need them. Getting this info before the year starts is a lifesaver.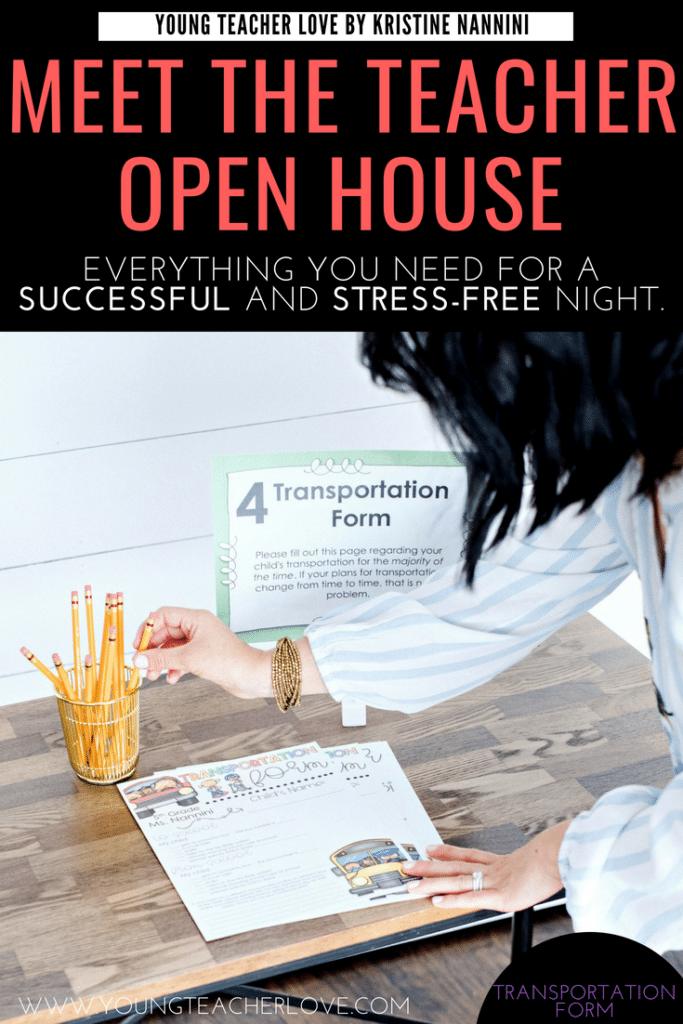 By providing parents with a volunteer form, you are more likely to increase parent involvement and encourage parents and other family members to volunteer in your classroom.
Have a Supply Donation Display
One of my favorite areas of my classroom during Meet the Teacher Night or Open House is my supply donation area. I always find so many students and their families gathered around this area. I used to feel bad asking for things like this, but each year I always found that parents are so happy and willing to help.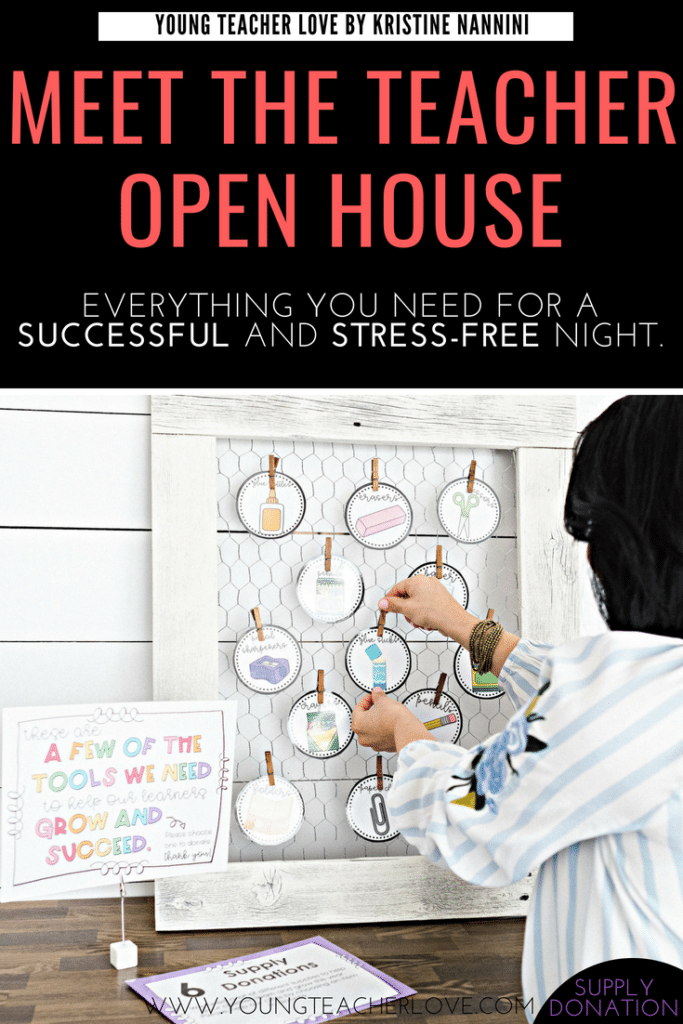 Here is a display I've done in the past. Families can take a supply off the display to donate to your classroom. The large sign and all of the small supply circles can be found in my editable Meet the Teacher resource found HERE. Also, you can get this wired frame on Amazon to use in your own classroom below!
Prepare a Scavenger Hunt
Another activity I do on Meet the Teacher Open House night is a school-wide scavenger hunt. This is another creative way to free yourself up to meet with families. In addition, it gets students and their families out into the other areas of your school to meet other staff members.
I remember talking to our librarian and gym teacher one year, and they both said that they were always bummed during this night because no one came to visit them. They are such an important part of our learning community, and it's so important that parents and guardians meet them and other staff members throughout the building. In addition, students can show parents or guardians different places around the school like our office, cafeteria, art room, etc.
Make a Bookmark Coloring Station for Students
Another important thing to remember is that this night shouldn't just be about parents. It should be about students, too!
You can do a coloring station for students with bookmarks. It's important to prep this station so that it is ready to go when students arrive.
This is a great way to welcome students into your classroom and give them something to call their own! I created these editable bookmarks with a coloring page on one side and their name printed on the other side. They find their name, and color the back of the bookmark.
Students can bring their bookmark back on the first day of school to use with their just right reading books. Or, you can have your students leave their bookmarks. You can laminate them, put a ribbon on them, and set them out at their seats for the first day of school.
Use a Flip Book or Brochure to Communicate with Parents
Another thing I like to do on Meet the Teacher Open House night is to provide families with explicit information about my classroom. This includes things like the schedule, expectations, grading policy, homework, etc. Most parents will ask about your rules and procedures, so it will help if you have it prepared ahead of time so you can direct them to your materials.
In my Meet the Teacher resource, I have included both a no-cut flip book and a brochure. You can choose to edit both and hand out both to parents or you can pick one and hand out one on your evening.
You can edit this flip book and brochure with important back-to-school class information. Its a great way to put important information at parents' fingertips. I have even pre-filled in the information for you as a template, but it is editable, so you can change the language to match your rules and procedures.
Thank Families for Attending
It's always a nice gesture to thank parents for taking time out of their busy schedules to attend your Meet the Teacher Open House night. One of my favorite parent gifts is an easy-to-assemble lemonade!
These tags are included in my editable Meet the Teacher resource. I printed them out on card stock, laminated them, punched a hole on top, and attached them to a small water bottle with a lemonade packet!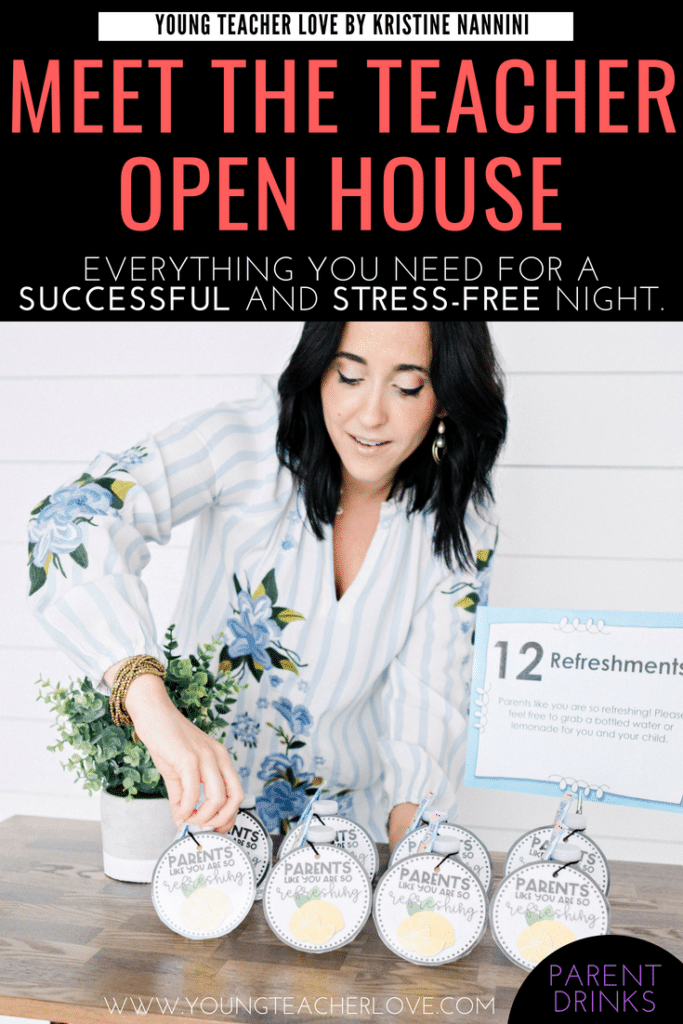 Give Out Your Contact Information
One of the last things I provide for parents is a magnet with my contact information on it.
I typically put this station right by the exit so that parents can grab a magnet on their way out. These editable magnets are a perfect way to provide parents with your important contact information.
Check out a FREE sample of some of the printables from this resource. Click HERE to grab those freebies!
Everything you need to have a SUCCESSFUL and STRESS-FREE night is included in my editable Meet the Teacher or Open House Survival Kit! You can download the preview to see the entire resource. Click HERE or the button below to check it out!
Do you need to host a virtual Meet the Teacher Open House? Click HERE to read my blog post on hosting a Virtual Meet the Teacher.
Photography by: Stefanie Russo Photography
We may earn money from the Amazon products mentioned in this post.