Day After Halloween Freebie
Do you dread the day after Halloween in your classroom? We all know it can be tough. Your students come in from a late night of trick-or-treating, they're crashing from the sugar high. The decorations and costumes and candy treats consume their conversation. Instead of dread, lean into the spirit with these Halloween freebie activities. 
What's in this freebie?
This resource provides fun Halloween-themed activities to keep students engaged in learning, but also relevant to what they want to discuss. There is an ELA descriptive writing activity to give students an outlet to share about their night collecting candy. There's also a graphing activity to help students see math in a real-life context. 
Day After Halloween Descriptive Writing
This writing activity includes everything you need to lead your students through a fun descriptive writing exercise about their Halloween night. Students will first use the planning pages to organize the descriptive details they will use into categories: decorations, costumes, candy, etc.
Students will then use the brainstorming page to write. There are two printable options to use. One has cute graphics and borders, the other is a little simpler. I have also included in the resource an illustration page. There's even a rubric to make your grading simple.
These options are all suitable for print and display. You might choose to add students' work to a bulletin or display area with a fun background or mount the writing pieces to fall-colored cardstock.
Day After Halloween Graphing
There are several options for this graphing activity. Students can bring in candy from home, or you can supply them with candy (if these options are allowed in your school). If these aren't great options for your students, I have an option with candy data provided. Or, students can complete a survey of favorite candy to use as their data.
Students will tally and graph the candy either individually or as a group with a larger data pool. Depending on time, you can do this activity with both an individual pool, and with a class pool. It would make an interesting comparison for students to analyze.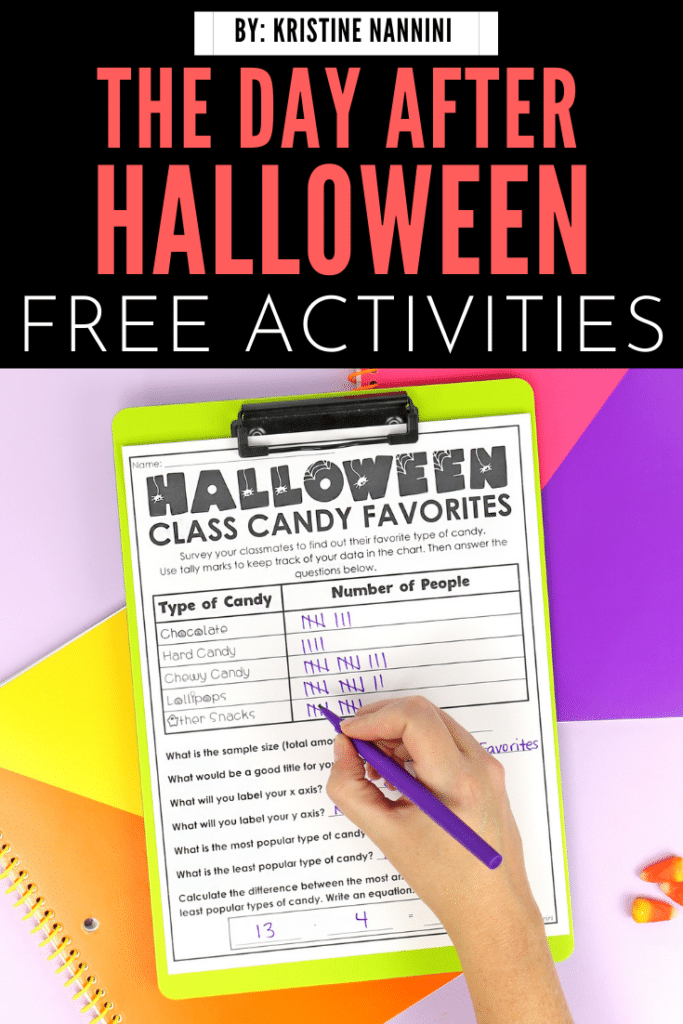 Each of these options also includes helpful questions for students to organize their data and figure out the important elements of their graph. Students will also create two types of graphs: bar and line plots. This is a perfect activity for students to review graphing.
Like these activities?
I have many more options for Halloween fun in my shop. If you enjoy this Halloween freebie, you can find themed resources like these logic games and brain teasers, or this candy competition activity. Or check out this WhoDunIt activity. What are some ways you lean into the Halloween fun with your students? Share your favorite fun ideas in the comments or add to the conversation on Facebook and Instagram.
Grab the freebie by opting in with your email below!